I only recently heard about "Ask Away Friday" through Echo from Domain of the Mad Mommy's blog. Echo is a funny, regular contributor to the Mommy Reality Challenge and her blog really makes for a hilarious read. Make sure you check it out!
Ask Away Friday is a blogger to blogger activity. Bloggers pair up, ask each other questions and then answer that bloggers questions on their own blog! It seemed like a fun way for bloggers from every niche to get to know each other, so when Echo put the call to action at the end of her post "Would anybody else like to swap questions with me?" I thought I'd try it out!
So here are the questions that Echo asked me:
1. How did you come up with the name of your blog?
When I worked in the beauty industry, I worked alongside such a smart and savvy network of beautiful and talented women.  It became a custom to close our emails, messages, and communications to each other by saying, "Love and Lipgloss!".
For various reasons, that job went away and I found myself being a stay-at-home mom who was itching to dive back into the blogging world, writing about what I know and love: My life as a woman with kids and plus my love for fashion & beauty.  I decided to marry those two loves together while paying homage to my former colleagues who are fabulous and who I will always remember!  Thus the name "Leapfrog and Lipgloss" was born. I had an idea in my mind of how I wanted the logo to look and sought out an artist who could bring it to life. I found Joana Miranda, an artist who specializes in drawing up chic fashionable women who created the picture of the girls and me and then my blog designer Shannon put it together in a logo.
2. What is your favorite thing about blogging?
My favorite thing about blogging is looking at a finished post. They say two types of creators exist:  Those who enjoy the creative process and those who enjoy the finished product.  I don't know who "they" are or why people aren't allowed to really enjoy both, BUT, I have to say that I really do actually lean more towards feeling relief that I was able to wrap up a project and the elation of sitting back and viewing it.
3. You and Jen host #mommyreality, what has been your favorite so far?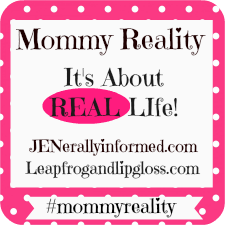 The Mommy Reality Challenge is a wacky, wild blogging series and linky party that Jen from JENerally Informed and I (along with our former co-creator Caroline) created so we moms who weren't feeling so "Pinterest-y Perfect" all the time would have a place to post OUR realities. dump our crap, and find a community who could relate.  Every other Friday, we take turns thinking up a challenge such as, "Show us what you REALLY fed your kids for dinner" and then fellow mommies can link up their photos of canned Spaghetti-Os or whatnot.
I think my favorite theme to participate in was one that Jen picked called "Before Mommy was a Mommy".  Most of the participants posted pictures of themselves from high school and it was fun to see the big hair and old fashions.
Here was my contribution of what I looked like back in high school and here was the follow-up post that announced the winner of that week!
4. Did you accomplish any major goals in 2014?
Since we're on a kick about blogging, one of my major goals was to launch this blog. This month it turns one year old!
5. What goals do you have for 2015?
These past few years in January I have actually been writing down specific goals that I'd like to accomplish and working towards making them happen. Just the simple act of writing down specific goals instead of making a half-hearted, "I hope to spend money wisely" and then keeping that stored up in the ol' noggin' has helped me actually accomplish most of my goals. The fact that this actually works is something that surprised me about myself, and that is why I have been continuing to do it this way for a few years now.  This year I haven't written any down yet… I usually take the month of January to think about what I'd like to accomplish.
6) What do you hope to accomplish with your blog in 2015?
I'd love to go to more local events in my area. I'd also love to have a travel opportunity due to my blog!  Also become rich and famous and earn 1 million dollars!!
7) I love your quick recipes. What is your favorite?
Thank you!  I'll pick one that was super easy and that my girls enjoyed cooking with me:  BLT Pizza with a Guacamole Twist:
8) How do you balance family and blog?
I don't.  I'll be honest, I'm terrible at this.  Haha, How do YOU do it? This is still part of the blogging process that I'm forever working on.  It seems like there's always something with the blog I'm neglecting and I don't want to neglect my family either, so I just decide which days to neglect my family and feed them Lunchables for dinner (even dad) and which days to neglect my blog.  J/k. I've never done that.  Okay, so I did once, but the point is, balancing the two is definitely still a work-in-progress.
9) What is the biggest perk of blogging?
To me, the biggest perk of blogging has been the fabulous community of bloggers I've gotten to know. I've been blogging since around 2000, but mostly under Live Journal or work blogs, or private blogs– never one I've taken seriously until now. (Haha, sorry former said "work") and when I started Leapfrog and Lipgloss, I was bound and determined to seek out interesting blogs to read. The rewarding part of it is that I'm in the "Mom Blogger" genre, but there are so many different perspectives that get brought to the table and this past year, I've found my life a little richer with the friendships I've formed throughout this journey and incorporating their perspectives in various ways into my daily life.
10) Who are 3 bloggers that inspire you?
Well, I will definitely put you, the very funny no-holds-barred Ms. Echo! Also, I will put Jen, my fabulous Mommy Reality co-host from JENerally Informed because she just does such a fabulous job genuinely connecting with the blogging community, and also I will put Amy Lynn Andrews because her blog was a life saver when I started Leapfrog and Lipgloss up as I'd been out of the blogging world for quite some time! It explained things to me in such a sweet and simple way— like I was five years old.  And sometimes we all need stuff explained to us like we're five.
So, these were my ten questions!  Now you can pop over to Echo's blog and see the 10 questions I asked her!
If you'd like to participate and swap questions with me, let me know!
Feel free to visit the #AskAwayFriday hosts, grab a button, and join in the fun!
Tamara – Tamara (Like) Camera
Tiffany – Mrs. Tee Love Life Laughter
Christy – Uplifting Families
Stacey – This Momma's Ramblings
and
Amber – Bold Fit Mom